Quality Policy
Quality means customer satisfaction
The measure of our quality is the customer. The evaluation of our services by our customers and their requirements are crucial for us and properly integrated into our quality goals. The goal of a zero-defect quality in all processes is a prerequisite to securing the future.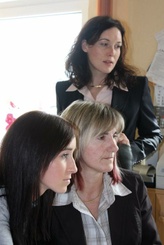 Quality through Leadership
Responsibility for the quality starts with the company's management . This sets quality policy and strategic quality goals.
Managers are therefore especially example for their employees . They must formulate clear, achievable goals and assist employees in realizing these goals . Managers are responsible for meeting these goals.
Quality means progress
Manufacturing quality, timeliness and cost optimization, but also a consistently competent and friendly cooperation with our customers' employees have the same importance for us. We see quality as a success factor in our competitiveness and thus securing the future of our company. We want to be perceived by our customers as the quality leader .

Quality of Work
We see our employees as independently acting, qualified and responsible decision-makers. Quality awareness and competence of our employees, we promote through education and training, and through an open communication with all quality issues in the enterprise.

Quality of our suppliers
From our suppliers and service partners, we expect to behave in accordance with our quality policy. Together we enhance customer satisfaction in an open and cooperative dialogue.
Quality as our engine development
We do not stay resting on target. The market and its requirements are constantly evolving. We would like to position our company in the long term on a modern basis, which makes it unique among the competition .

This requires a deep and continuous awareness of the need for continuous quality improvement. Highest quality demands of every employee fully aware of the quality of their individual work as well as the active contribution to the continuous improvement of the quality of our processes and services. To achieve this, the skills of all employees for customer and quality oriented thinking and action must be constantly developed and trained.
Zertifikate / Zulassungen