Leistungsübersicht nach Branchen
Diese Leistungen bieten wir aktuell für unsere Kunden mit den entsprechenden Zulassungen an.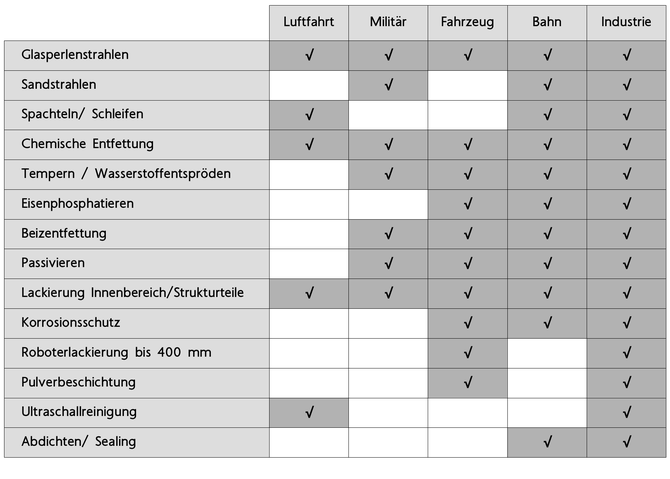 Lackierzentrum Reichenbach Lackierer für Elbe Flugzeugwerke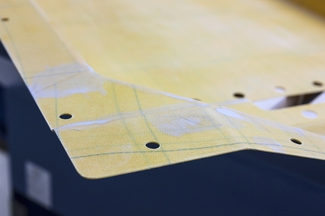 Seit Oktober 2014 beschichtet die Lackierzentrum Reichenbach GmbH als verlängerte Werkbank der Elbe Flugzeugwerke GmbH serienmäßig Flugzeuginnenteile auf Basis GFK und Honeycomb für verschiedene Airbustypen.
Der neuen Serienbeschichtung ging eine Investition für einen neuen Lackierbereich voraus, welcher die Standards der Luftfahrtindustrie in allen Belangen erfüllt.
Die geforderte Teilerückverfolgbarkeit auf Einzelteilbasis sowie die EDI-Schnittstelle wird im ERP-System Tryton realisiert. Tryton ist ein Open-Source-ERP, das für die hauseigenen Belange seit 2011 individuell angepasst wurde.
Alle Prozesse wurden durch die Elbe Flugzeugwerke und durch Airbus zertifiziert. Die Zertifizierung zur EN 9100 (QMS für Lieferanten der Luftfahrtindustrie) wurde im Mai 2015 abgeschlossen. Seit 2004 ist das Lackierzentrum Reichenbach nach ISO 9001 zertifiziert.
History and Profile
1999 – LZR started its business as a supplier of surface coatings and in the first year
            was primarily active in the paintwork.

2000 – First customers in the field of industrial wet painting

2001 – Entry into the automotive chain by customer Behr Industries

2004 – First certification according to ISO 9001

2005 – Installation of a production line for powder coatings.

2007 – establishment of a sand blast cabinet for parts up to 14,00 x 6,00 x 4,00 m length

2008 – Entry into the supply chain of the aviation industry through customer MAHLE

2009 – Customer - certification according to VDA 6.4

2010 – Inauguration of a production line with painting robots , dry and wet chemical cleaning
            oven built for the series - wet painting of turbocharger housings for the Volkswagen
            brand

2012 – Inauguration of the new large parts of the powder-coating for parts up to 8.00 x
            2.70 x 2.70 m ( L / W / H) and 2 tons unit weight as well as chrome-free chemical
            pretreatment

2012 – Awarded "Supplier of the Year 2012" by the company MAHLE

2013 – Awarded "Supplier of the Year 2012" by the company WESOMA

The Lackierzentrum Reichenbach GmbH employs a staff of 41 , including 7 trainees, to more than 3,500 square meters production area . Our workforce shows a balance of experienced older workers and young people who have been trained within the company itself for the most part . With a woman ratio of over 50 %, we consider ourselves well in this regard as an exceptional and attractive company in the industry.